The company is governed by a Board of Directors comprising: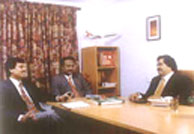 Chairman & Managing Director: Mr.S.Mayilvahanam

Mr. S. Mayilvahanam has established the company and taken it to great heights. His business acumen has been the key to the success of the organization. He has vast experience in administration.

Executive Director: Mr. S. Sarvanan

Mr. S. Sarvanan is another highly experienced hand in freight forwarding. He has rendered his valuable service to a multinational company in similar capacity.

Financial Director: Mr. S. Arun Venkatesh

Mr. Arun Venkatesh is a Chartered Accountant and has an experience of a decades as an Accounts Manager in a multinational company. He handles all matters relating to finance and administration.